Near-Death Experiencer Howard Storm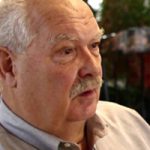 Howard Storm was born October 26, 1946, in Flushing, New York. He is a former art professor and chairman of the art department at the Northern Kentucky University. Before his near-death experience, Howard reports that he was not a pleasant man. He was an angry atheist that was hostile to every form of religion, as well as those who practiced it. He considered all spiritual belief systems to be fantasies created by deluded people. He knew with certainty that the material world was all that existed. He would often use rage to control the people around him and didn't find joy in anything. On June 1, 1985, at the age of 38, Howard suffered a perforation of the stomach, which led to his death and a profound near-death experience. When he returned to this world, he was a changed man. He is best known as the author of My Descent Into Death which details his near-death experience. Howard's NDE is regarded as one of the most complete accounts of distressing near-death experiences ever recorded. It includes dramatic encounters with evil spirits, a trip to hell, a rescue by Jesus, and extensive conversations with Jesus and a group of angels. Howard's NDE has been cited frequently in near-death studies literature. His book was originally published in 2000. Howard has told his story to numerous audiences and appeared on NBC's Today Show, The Oprah Winfrey Show, 48 Hours, Discovery Channel and Coast to Coast AM. Howard was so deeply affected by his near-death experience that he resigned from Northern Kentucky University and became a United Church of Christ minister.
……………
Chapter 1 – Love The Person You're With
The video that this chapter is based on is located here. It comes from a documentary called "The Redemption of Howard Storm." The documentary was produced by filmmaker Matt Cline and is available on YouTube:
……………
Chapter 16 – I Don't Want To Go Back!
The first excerpt in this chapter comes an article written by Howard Storm that describes many different aspects of his near-death experience. That article appears on Kevin Williams's near-death.com website.
The second excerpt in this chapter comes from a talk that Howard Storm gave at Seattle IANDS on December 4, 2004. You can watch Part 2 of this talk by going here. This talk was filmed by filmmaker Norman Van Rooy.
……………
Chapter 61 – I Thought I Was Going To Be A Saint
The first quote in this chapter comes from an article that appeared in the Lansing State Journal on August 15, 2014.
The second quote in this chapter comes from a 2014 interview with Alex Tsakiris on Skeptiko.
……………
Chapter 63 – Egotism Is A Huge Problem
This quote comes from an interview that Howard did with near-death experiencer Tricia Barker. That video is available here.
……………
Chapter 81 – Cry Out To God
This quote appears on the Near-Death.com website, in a section that deals with hell.
……………
Chapter 90 – The Future Of The World
The video that this chapter is based on is located here. The original video is located here. If you click here, you will be able to watch five additional videos that are included in this series.
……………
Links:
• NDE Stories: Howard Storm

• Near-Death.com on Howard Storm
• Howard Storm's Website

• Howard Storm on Facebook
……………
My Descent Into Death: A Second Chance at Life
By Howard Storm
Amazon Description:
Not since Betty Eadie's Embraced by the Light has a personal account of a Near-Death Experience (NDE) been so utterly different from most others — or nearly as compelling.
In the thirty years since Raymond Moody's Life After Life appeared, a familiar pattern of NDEs has emerged: suddenly floating over one's own body, usually in a hospital setting, then a sudden hurtling through a tunnel of light toward a presence of love. Not so in Howard Storm's case.
Storm, an avowed atheist, was awaiting emergency surgery when he realized that he was at death's door. Storm found himself out of his own body, looking down on the hospital room scene below. Next, rather than going "toward the light," he found himself being torturously dragged to excruciating realms of darkness and death, where he was physically assaulted by monstrous beings of evil. His description of his pure terror and torture is unnerving in its utter originality and convincing detail.
Finally, drawn away from death and transported to the realm of heaven, Storm met angelic beings as well as the God of Creation. In this fascinating account, Storm tells of his "life review," his conversation with God, even answers to age-old questions such as why the Holocaust was allowed to take place. Storm was sent back to his body with a new knowledge of the purpose of life here on earth. This book is his message of hope.
……………
Lessons Learned: A Spiritual Journey
By Howard Storm
Amazon Description:
From the author of, "My Descent Into Death," comes and autobiographical journey that changed the author's life from an atheist to a Christian minister. This journey has had dramatic hill and valleys which have been openly described in the hopes that the reader will find similarities in their struggles through life towards an abiding faith in God.