Introduction
By David Sunfellow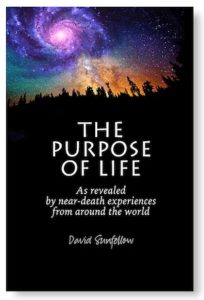 Every day, all over the world, an increasing number of people are reporting near-death experiences (and related phenomena). While near-death experiences have been reported since ancient times, it is only in the last few decades that we have been able to gather large numbers of these stories and systematically study them. The information that emerges from these stories, both ancient and modern, is profound. It is also remarkably consistent, instructive, and inspiring.
This book is a collection of the best stories and quotes I have come across in 40-plus years of studying NDEs. It shines a bright light on the universal truths that are championed by NDEs and reveals, in life-changing technicolor, how to apply these truths to our everyday lives.
This book was first published under the title Love The Person You're With. All 60 chapters of that book are included in this one. 31 additional chapters have been added. The book is being published with a new cover and title to reach more people. New content has been added to explore some topics in greater depth. Other tweaks, including enhanced references, have been added to make the book easier to read, remember, and study.
Each chapter consists of a remarkable story, quote, or series of quotes. Links at the end of every chapter provide background information about the experiencer or researcher who is featured. These links also lead to source materials and information pertaining to related topics.
New chapters are marked with "+" in the Table of Contents. Chapters that include " * " in the title have companion videos. A link at the bottom of video chapters allows you to watch the original video on the book's website. Be sure to take advantage of this wonderful feature. NDE stories are often more impactful when you can listen to people sharing their stories directly.
One bit of advice: read this book slowly and carefully. There is so much power in these accounts that you might catch fire if you read them too fast.
Or you might miss out.
Whether you are new to the subject of near-death experiences, or have studied them for decades, reading these accounts is akin to being struck by lightning. Repeatedly. Not only do they communicate universal truths with unparalleled clarity and power, but they also make it crystal clear how to apply these truths to our daily lives, which is what I care most about.
NDE Researcher Kenneth Ring said it best:
"The true promise of the NDE is not so much what it suggests about an afterlife — as inspiring and comforting as those glimpses are — but what it says about how to live NOW… to learn from NDErs about how to live, or how to live better, with greater self-awareness, self-compassion, and concern for others."
…………
Introduction
Love & Life Reviews
1 – Love The Person You're With (Howard Storm) *
2 – The Golden Rule Dramatically Illustrated (Kenneth Ring) *
3 – Operation Chop-Chop (Tom Sawyer)
4 – The Full Consequences Of My Actions (Rene Jorgensen) *
5 – The Greatest Of All Actions (Reinee Pasarow) *
6 – Graham Crackers & Milk (Dianne Morrissey) *
7 – The Most Important Are Often The Least Important (Reinee Pasarow) +
8 – Watering A Tree (Mohammad Z)
9 – Plants & Animals Too (Justin U)
10 – Take Care Of The Earth, Animals, One Another (Oliver John Calvert) *
11 – God's Glasses (Erica McKenzie) *
12 – Everything Is Made Of LOVE! (Mary Deioma) *
Heavenly Humor
13 – The Light Has A Fantastic Sense Of Humor (Andy Petro) *
14 – The Funniest Thought In The World (John K) +
15 – The Cable Guys (Amy Call) *
The Purpose Of Life
16 – I Don't Want To Go Back! (Howard Storm) * +
17 – You Can Do Better (Mary Jo Rapini) *
18 – Part Of You Is Choosing & Participating (Naomi)
19 – Why Am I So Depressed? (Krystal Winzer) +
20 – Bring The Light Into This World (Anne Horn) *
21 – Hold The Energy Of The Light (Ellyn Dye) *
22 – God Becoming Us (Mellen-Thomas Benedict)
23 – We Come Here To Learn About Ourselves (Ryan Rampton) *
24 – True Learning Happens In The Body (Amy Call) * +
25 – A Place To Test Ourselves Under Pressure (Jean R)
26 – The Ultimate Theme Park (Duane S)
27 – Life Is Really Exciting (Natalie Sudman) * +
28 – The Truth Is Hidden While We Are Alive (Amphianda Baskett) +
29 – It's All Good (Amy Call) *
30 – One Of God's Most Astonishing Gifts (Mary Neal) +
31 – ALL Experiences Are Essential (IANDS Experiencer #1)
32 – Our Job On Earth Is Important (Heather V)
33 – Why We Are Here (Julie Aubier) *
34 – The Sweet Spot (David Sunfellow) +
Brave, Bold & Beautiful
35 – I Remembered All The Answers (Amphianda Baskett)
36 – No Wonder. No Wonder. No Wonder. (Barbara Harris Whitfield)
37 – There Is Nothing To Forgive (Anita Moorjani) *
38 – Oh Beautiful Human (Mellen-Thomas Benedict) * +
39 – We Are Uniquely Special (Natalie Sudman) *
40 – Dig In, Remember, Teach Others (Natalie Sudman) +
41 – Everything Was Created For Me (Jeff Olsen)
42 – God Has A Plan For Each Of Us (Mary Neal) +
43 – Anything Is Possible (Anita Moorjani)
44 – Three Discoveries (IANDS Experiencer #2)
45 – Give Miracles The First Chance (Mellen-Thomas Benedict)
Super Powers & Future Selves
46 – Aftereffects – Kenneth Ring
47 – Aftereffects – Jeffrey Long
48 – Organic Food & Healthy Lifestyles (Sheila, Dennis, Matthew Linn)
49 – Everything Changed (Kenneth Ring)
50 – A Life Greatly Disrupted (Cami Renfrow)
51 – People & Animals Follow Me Home (IANDS Experiencer #3)
52 – I Knew Their Story (Ana Cecilia G)
53 – All The Side Effects (IANDS Experiencer #4)
54 – Tell Her About The Light (Louisa Peck) +
55 – I Knew Their Hearts (Jeff Olsen)
56 – One Day In Manhattan (Peter Panagore)
57 – Experiencers Will Affect The Entire World (Mellen-Thomas Benedict)
Paradise Lost
58 – The Next Part Of The Journey (Ryan Rampton) *
59 – Only A Memory (Amphianda Baskett)
60 – You Can't Keep Any Of The Toys (Alon Anava) * +
61 – I Thought I Was Going To Be A Saint (Howard Storm)
62 – Enlightenment Is A Fantasy (Barbara Harris Whitfield)
63 – Egotism Is A Huge Problem (Howard Storm) * +
64 – A Double Warning (David Sunfellow) +
65 – Experiencers Are Still Human (Kenneth Ring)
66 – Don't Pine For A Near-Death Experience (Peter Panagore) *
67 – Be Careful What You Wish For (Natalie Sudman) * +
68 – Experiencers Need To Protect Themselves (Tricia Barker) * +
69 – When Hellfire Preachers Meet A Loving God (John W. Price)
70 – Become The Story (David Sunfellow)
71 – Step-By-Step, Little-By-Little (David Sunfellow)
Hell
72 – The Most Frightening Things I Have Encountered (Jeffrey Long) +
73 – As In This World, So In The Next – Only More So (Kevin Williams) +
74 – The Beings Of Hell: Common Characteristics (Samuel Bercholz) +
75 – A Spiritual Wakeup Call (Barbara R. Rommer) +
76 – The Same Level Of Transformation (Jeffrey Long) +
77 – Everyone Can Have A Hellish Experience (Barbara R. Rommer) +
78 – Sorted By Vibration (Arthur Yensen)
79 – Hell & The Importance Of Kindness (Samuel Bercholz) +
80 – If You End Up In Hell (David Sunfellow) +
81 – Cry Out To God (Howard Storm) +
82 – God, Help Me! (Cathleen C) +
83 – Heaven Is A Frequency (Teri R)
Angels
84 – Angels, Angels Everywhere (George Ritchie)
85 – A White Glow & Glint Of Lights (Linda Stewart) +
86 – Watch This! (Tricia Barker) +
87 – It's Going To Be OK (Cecil Willy) * +
88 – We All Have Guardian Angels (Lorna Byrne) +
Heaven On Earth
89 – How To Still Storms & Walk On Water (David Sunfellow)
90 – The Future Of The World (Howard Storm) *
Universal Truths (v2.2)
Special Thanks
References, Links & Resources
Experiencers & Researchers Featured In This Book