Near-Death Experiencer Tricia Barker

Tricia Barker was a depressed 21-year-old college student at The University of Texas in Austin. After getting into a serious car accident, she ended up in an emergency room where she bled to death on the operating table. As doctors worked frantically to save her life, Tricia left her body. Watching from above, Tricia, who was agnostic at the time, was delighted to discover that there was life beyond physical consciousness. Then she noticed two angels. They encouraged her to watch as they beamed light into and through the doctors who were operating on her body. While Tricia's near-death experience included a life review, a visit to a heavenly realm, and a moment in the loving presence of God, it was her encounter with the angels that impacted her future life the most.
After her NDE, Tricia felt guided to teach overseas, in public schools, and at the college level. Her near-death experience has been featured on I Survived: Beyond and Back, National Geographic's April 2016 article "The Crossing," the cover story for Simple Grace Magazine, and The Doctor Oz Show. Tricia's memoir, Angels in the OR: What Dying Taught Me About Healing, Survival, and Transformation tells the story of her near-death experience, teaching mission, and eventual triumph over trauma in her past. The book also focuses on the importance being of service to the world and the healing power of giving unconditional love to others. Tricia believes that joy, humor, and healing is available to everyone through a deeper connection to divinity.
Tricia currently teaches English and Creative Writing at a community college in Fort Worth, Texas. She also interviews other near-death experiencers, researchers, healers, spiritual teachers, and mediums on her YouTube Channel. Tricia's poetry and essays have been published in several publications including The Binnacle, The Paterson Literary Review, and The Midwest Quarterly. Tricia Barker is also a writer for Hallmark.
……………
Chapter 68 – Experiencers Need To Protect Themselves
The video that this chapter is based on is located here. It comes from an interview that Tricia did with Jannecke Øinæs.
……………
Chapter 86 – Watch This!
This chapter comes from an interview that Tricia did with David Sunfellow for this book.
……………
Links:
• Tricia Barker's Website
• Tricia Barker on Facebook
• Tricia Barker on Twitter
• Tricia Barker on YouTube
• Tricia Barker on NDE Stories
……………
Book: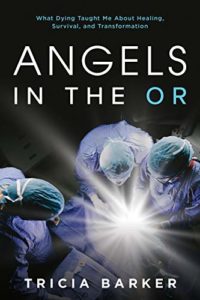 Angels in the OR: What Dying Taught Me About Healing, Survival, and Transformation
By Tricia Barker
Amazon Description:
Tricia Barker was a depressed, agnostic college student at The University of Texas in Austin…until a profound near-death experience (NDE) during surgery revolutionizes her entire world. As she learns to walk again, Tricia lets go of painful wounds from childhood and integrates some of the aftereffects of her spiritual journey into her daily life. She returns to college with renewed vigor, intending to embark on a new path by becoming an English teacher.
But after a year of teaching in the US, Tricia travels to South Korea, where she is the victim of a sexual assault. Now, she must use the wisdom she gained on the Other Side to heal herself; and later, guide countless junior high, high school, and college students to greater peace. Through teaching and mentoring others — many of whom are struggling with traumas of their own — Tricia decides to devote her life to bringing the "light" she experienced during her NDE to individuals who are seeking solace, inspiration, and overall well-being.